This series of guitar fretboard lessons will provide the necessary groundwork for becoming an exceptional guitarist - and that's not hype! Many guitarists neglect learning the fretboard and seriously limit their potential as a result.
If you want to be able to improvise (play what you feel, in the moment) on guitar confidently, this section is especially crucial. Knowing the fretboard gives you the roadmap for making your own music with intuition and purpose.
But it's not difficult - you just need the right process, and that's why I created these lessons.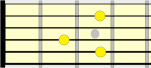 Take my Fretboard Foundations Course and receive a new lesson in your inbox every few days. Enter your email address below to begin your fretboard learning journey...
Why Learning the Guitar Fretboard Will Make You a Better Player
Imagine a map without any roads or locations to show you a) where you are and b) how to get to your destination. Pretty useless, right? Well that's how the fretboard is likely to appear at first!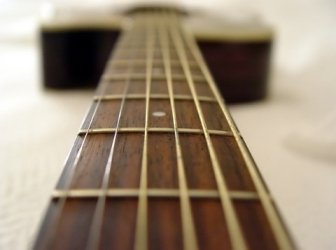 In order to know exactly where you're going, you need some points of reference - knowing how one fret relates to another on each string.
Your first task is to understand the basic function of the fretboard, starting with knowing what musicians mean when they say the "8th fret" (for example), numbering your frets and understanding the significance of the 12th fret (i.e. why does the 12th fret have a different inlay marker?).
Each fret/string represents a note from the "musical alphabet" (A through G). We need to know where these notes are on guitar so we always have a reference point. This will ensure you can instantly locate any note no matter where you are on the neck. You'll see notes referenced in music all the time, so this is crucial stuff, but should only take a week or so to memorize.
While learning the notes on each fret/string is important, you'll need to break up that large block of notes so you can compartmentalize the fretboard more efficiently. Your next step, therefore, is to explore the visual relationship between notes across multiple strings. This is your first step in seeing patterns (or "shapes") emerge from the fretboard.
Already, through these three lessons, you'll have the key reference points you need to move from fret to fret without guesswork or undue hesitation. You'll see just how valuable and integral to your playing this skill becomes the more you progress.