Home
> Rhythm

Rhythm Guitar Lessons - Back Up the Band!
Welcome to the rhythm guitar lessons hub. From here, you can access free lessons that will take you through the essential techniques and skills involved in playing rhythm guitar.
Rhythm guitar generally covers essential playing techniques such as strumming, flat picking, finger picking and chord phrasing. Basically, anything that sits under and backs up the lead instruments and vocals.
So, work through the lessons below from top to bottom and make sure you equip yourself with the playing tools you need to create your own music with an open mind.
---
Featured Rhythm Guitar Lesson
This lesson looks at combining finger picking and strumming to give your rhythm playing some interesting variation...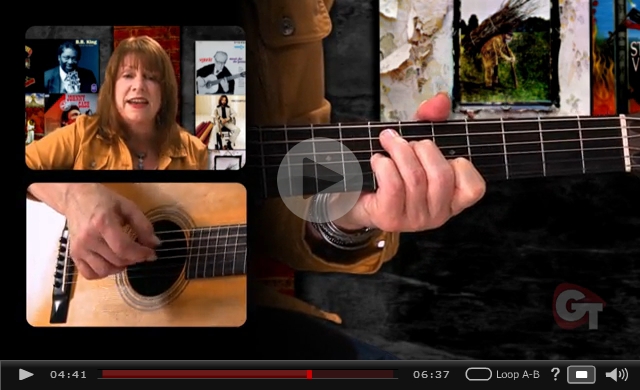 ---
Learn Rhythm Guitar Step by Step

Basic Chord Changing Exercises
Before you learn complex strumming or picking patterns, you need to be able to negotiate chord changes. Once these "marker points" are firmly in place, you can then work your own rhythms around them. This lesson includes 6 exercises with backing tracks to help sharpen your chord change timing.


See also:
Barre Chord Changing Exercises

Guitar Strumming Lessons
In this series, you'll learn essential strumming techniques. Starting with the basics (if you need), moving onto more complex strumming patterns and chord change rhythms, use this course to lay the foundations for your own experimentation. Features video, backing tracks and clear diagrams. Also in this series...

Guitar Chord Picking Technique
Covers chord arpeggiation and exercises to help you improve your picking accuracy and timing. Learn the essential "rules" of alternate picking, string skipping and other common flatpicking styles. Also in this series...

Finger Picking
Video series taking you through the basics of fingerstyle playing. Learn how to play multiple parts at once to create that distinctive orchestral sound. Master left and right hand co-ordination and the importance of thumb independence to play a variety of rhythms.

Metal Strumming & Rhythm
Series devoted to essential metal rhythm guitar techniques. We start with some basic downstrum rhythms (with downloadable drum tracks!) commonly used in heavy metal before moving on to more complex down-up speed patterns. Also in this series...

Chord Phrasing
Learn more about how to use chords more effectively by applying various note "phrases" around the basic chord shapes with your free fingers. Part 2 expands on this idea by playing 2 and 3 string phrases around a chord structure. Experimenting with this technique will help you discover new ways to spice up your rhythm playing. Also in this series...
---
Was this section helpful? Please let others know, cheers...

Stay Updated & Learn More...



Subscribe to the fretjam newsletter below for updates and extras, plus grab your

free

copy of

Uncommon Chords: 101 Vibrant Voicings You Won't Find on a Typical Chord Chart

.


^ Back to Top

Guitar Lessons Home