Many of us are leading busier lives than ever, with work and family commitments being our most time consuming priorities. Finding time to practice guitar is becoming increasingly difficult as hobbies and recreational pursuits get pushed down the "to do" list.
But like anything in life worth our time (and guitar certainly is worth a good chunk of it), it all boils down to effective time management.
So this article is not about promoting a drastic change of lifestyle (although if you are looking to truly simplify and de-clutter your life and have more time for the things you love, I would direct you towards two guys who know what it means to live a minimalistic life).

Rather, I'm going to assume the only thing you're discontent with is the amount of time you have with the guitar. You want to become a better player and you feel the only way you'd have more time to practice is if the days were a couple of hours longer, right?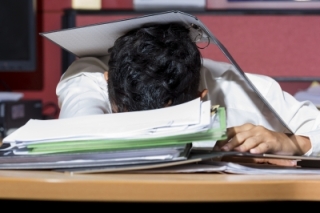 Wrong. It's time for a simple change in perspective on both what constitutes "enough practice" and "free time".

1. Practice Smarter and Cut Waste
This is the first point for a reason.
You could spend hours per day practicing and make dismal progress, or you could spend just half an hour per day (e.g. before bed) and make phenomenal progress. How?
By practicing smarter, stupid!
Smart practice is about planning your time based around specific playing goals and prioritising what you practice to give you the shortest possible route to fulfilling those goals.
Without this, it doesn't matter how much time you find to practice, it will never be enough. Laser focus your practice time based on key personal goals, however, and you'll need far less time to attain that satisfying sense of accomplishment.
The truth is that you could be wasting as much as 50% of your practice time.
I strongly recommend you start planning what little practice time you have more smartly right here, right now.

2. Myth: More Practice Hours = Faster Progress
Many guitarists are under the illusion that the more hours/minutes they clock up in each practice session, the better. Well, this may only be true if those sessions are regular. But most of us don't have several hours per day. In reality, the number of hours you practice in one sitting is not so important.
It's far more effective to practice 30 minutes every day than 4 hours at the weekend and nothing inbetween. Now, I know what you may be thinking: "I don't even have time for 30 minutes per day!" - I'll come to that!
The point here is that regular practice will help internalise what you learn quicker than sparse practice, no matter how long those sparse sessions are. Things like muscle memory can only develop properly with persistent and repetitive motion and pressure. Leaving practice for the time-richer weekends is like taking two steps forwards and one back, (maybe even two some weekends!).
Similarly, the brain also benefits from frequent repetition of exercises such as memorising the fretboard, finger positions, scale patterns etc. Think back to when you were preparing for your exams (or if you're still in school/college, heed this advice!) - it was far better to study over the course of two weeks before the exam, than cram everything into the few nights before. Why? So your brain has a chance to process and organise the information it's being fed.
Small chunks of information are easiest for the brain to process and internalise.
So the first thing to understand is that short and regular bursts of solid practice will develop your skills far quicker than long but infrequent sessions.
But what if you don't even have 30 minutes per day to practice guitar?

3. Is Free Time Hiding Right In Front Of You?
There may be more free time available during a typical day than you initially realise, especially once you get home from work or wherever it is you've been.
Everyone's life is different, but if you don't spend much time at home then a travel guitar might prove a good investment. They are lightweight, portable and can be taken on planes, walks and make the perfect hotel room companion.
If you're a 9-5'er, your free time will predominantly be in the evenings...
Perhaps it's not your turn to cook dinner tonight - pick up the guitar.
Perhaps the significant other is putting the kids to bed - pick up the guitar.
The significant other may be watching one of those crappy TV shows you hate or s/he's on the laptop, reading or soaking in the bath - pick up the guitar (in another room of course, whether it's the bedroom or bathroom, it does not matter where).
If you're a single parent and your responsibilities are not shared, the most obvious time for a short practice is after the kids are in bed and before they wake...
Get into the habit of rising a mere 20 minutes earlier in the morning and going to bed a mere 20 minutes later at night - that's an extra 40 minutes practice per day. Do not underestimate how this accumulated practice can speed up your progress.
To put it into perspective, that's over 240 hours of extra practice per year if you can stick to it.
Use an unplugged electric guitar (or with a headphone amp) during those quieter times. There is still so much that can be done before you work on things like volume and tone.
It sounds silly, but are you absolutely certain you can't find a quiet place in your office to practice guitar at lunch? Obviously if you work for a solicitors that's gonna be difficult, but a design-based agency? A little more relaxed I imagine.
A little more controversial - tell the S/O you're working late, drive out to a quiet spot with your guitar in the trunk and spend half an hour making sweet lo... I mean practicing. When your significant other finds out you've been "cheating", relax! It will have only been with your six-string temptress/casanova. Oh the relief! (Ok that was more of a tongue-in-cheek tip - make of it what you will.)
Even if work and physically playing guitar just won't mix, lunch time at the office is precious time for reading up on theory - how notes and intervals work, scales, fretboard memorisation and getting new ideas for your practice sessions...