Home
>
Chords
>
Barre Chords

Guitar Barre Chords
Guitar barre chords are a specific type of
movable chord form
. These are chords you can shift up and down the fretboard in their fixed formation (known as a "chord shape" or "chord form"). This in turn allows you to use those same familiar chord fingerings in any key, simply by positioning them at a new fret.
The "barre" refers to positioning one of your fret hand fingers (most often your index finger) flat across more than one string. You'll see how different types of barre are used in different chord shapes throughout this course.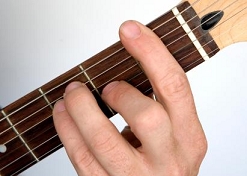 In this series, we'll be looking at 3 main chord shapes. Why
shapes
? Well, the five main guitar barre chords are derived from the shape/form of the
basic guitar chords
most of us learn as beginners - you know the ones - E, A, C, G and D, down at the first few frets.
These are our foundation chord shapes, and we refer to these same basic forms as we move them up the fretboard and create barre chords from them.

So, in a nutshell, here's what you can look forward to learning:
Automatically knowing how to play several voicings of the same chord in different positions over the fretboard. This is about expanding your creative options.
Knowing how to modify the standard barre chord shapes to create loads more interesting chords.
Having the physical confidence and the muscle memory to change between what would otherwise be awkward chord shapes.
So, let's get stuck in, starting with E shape guitar barre chords...


---
E shape guitar barre chords - the theory
Time and time again, I hear people refer to the E shape/form barre chord as the dreaded "F chord". It's seen as a major milestone after learning your first chords.
So, what makes it the "E shape"? The sequence below starts off showing us the
E major open position chord
that I'm sure you're familiar with. This shape (the finger formation created on the fretboard) simply gets moved up, meaning we have to barre our index finger to represent where the nut (or capo) would be.
Don't try and play anything right now - just observe and listen (click the diagram to hear)...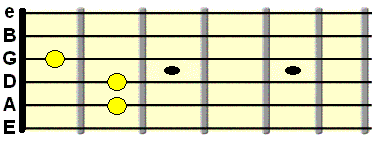 ...and that shape can be positioned anywhere up the fretboard depending on what major chord you want to play.
Now take a look at a similar diagram below..
.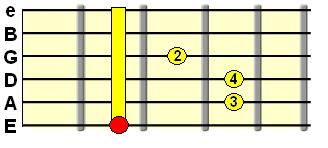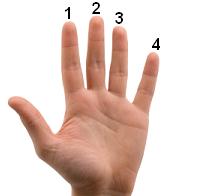 The lowest
root note
of the E form barre (the fretted
red dot
) is always on the
E
string
, so if that root note was positioned at fret 5, it would build an
A major
chord, since the root note would be the note
A
.
There are higher root notes positioned on the D and high E strings, but at this stage, it's easiest to identify the key of guitar barre chords by looking at their
lowest
root note (the bass note if you like), as the rest of the chord is built from that point.
Know all the root notes on the low E string?

If not, spend some time studying the fretboard. With the right tools, it's not as boring as it sounds!

The E-shape also has a minor chord shape taken, like before, from the
open
E minor shape we're already familiar with.
Just like before, your barring finger acts as the nut, or capo, so you can position that whole shape wherever you need on the fretboard.
---
Fingering guitar barre chords & strength building
At first, you'll find that barring your index finger across all 6 strings like that is difficult and even painful. This is perfectly normal. Like with so many things, it just takes a little time and persistence to nail it.
With
only your index finger barred
at the first fret, try picking each string - does each one sound
cleanly
? Is there any
buzzing
? If there is buzzing, it means the string isn't being fretted properly. Adjust your barre finger position, and try again, until each string sounds cleanly.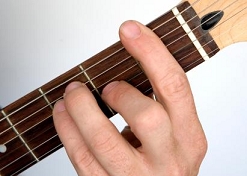 Notice how the barre finger is placed
as close to the fret wire as possible
.
The non-barre fingers stand tall and arch down onto the strings without collapsing back. Fret with the finger tips.

Be patient. It won't feel comfortable at first, but judge it based on whether all 6 strings sound cleanly. If they do, it's simply a case of physically getting used to it, and you will!

Tip: Give that index finger a workout. Barre the strings, like above, for 10 seconds, play all 6 strings, then release the barre, barre for 10 seconds again, then release etc. This will help the muscle memory set in.

Like I said before, just make sure each note sounds cleanly when you're barring. Barring at higher frets is usually easier, so once you master it at the first fret, it'll all be easier from there. Guitar barre chords will be a great milestone for you to pass.
Here are some more pics to help, starting with the major form. Notice how the thumb on the back of the neck is positioned almost adjacently to the index barre finger. If the neck wasn't there, the tips of my index and thumb would meet. This gives your fingers the necessary support to apply enough tension to the strings...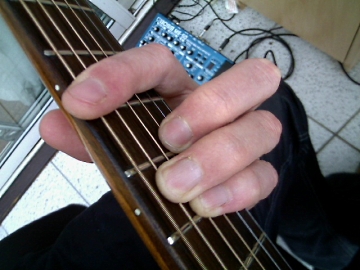 And now the minor form (all we do is remove the 2nd finger)...


Once you're confident with the basic fingering for guitar barre chords, try changing between open position chords and E shape barre chords. Use the below exercise for reference (the barre chords are underlined). Loop the backing track in your media player once downloaded (right click and "save as").



Example - Download Jam Track


---
Other E form chords
There are many chords that stem from this one shape.
Now, I'm usually against just throwing chord charts in front of you (known as "parrot fashion" learning!), but now we know the basic barre chord shape, it's just a case of knowing all the variations and chord flavours we can build around it.
When playing a chord progression using regular major and minor chords, try some of the major and minor variations below to see if you can spice up the song. You'll eventually learn which chords complement particular movements in a song.

Note: The diagrams below use a suggested fingering - if you're playing a particular progression, you might want to alter the fingerings to accommodate...

Major E Shape Chords

Major (e.g. A)


Dominant 7th (e.g. A7)


Dominant 7th Variation


Major 7th (e.g. Amaj7)


Added 9th (e.g. Aadd9)


Added 6th (e.g. Aadd6)


9th (e.g. A9)


7th, Added 6th (A7add6)


7th, Added 6th Variation


13th (e.g. A13)


Minor E Shape Chords

Minor (e.g. Am)


Minor 7th (e.g. Am7)


Minor 7th Variation


Minor Major 7th (e.g. AmM7)


Minor Added 9th (e.g. Amadd9)


Minor Added 6th (e.g. Amadd6)


Minor 9th (e.g. Am9)


Minor 7th, Added 6th (Am7add6)


Minor 7th, Added 6th Variation


Minor 13th (e.g. Am13)

Suspended E Shape Chords
This is where the major or minor 3rd is replaced with the 4th/11th - more on this in the seperate chord theory lessons. They tend to be used as tension chords because of their "unresolved" feeling within a progression.
Suspended 4th

(e.g. Asus4)


Sus 4th, Added 6th (e.g. Asus4add6)


7th, Sus 4th, Added 6th (A7sus4add6)


9th, Sus 4th

(A9sus4)


7th, Suspended 4th

(e.g. A7sus4)


Suspended 13th (e.g. Asus13)


Sus 4th, Added 9th (Asus4add9)

Remember, you can
cut these chord shapes down
to make the fingering more accessible.
They key thing is always the same - EXPERIMENT!

Start with the basic E form barre chord, major and minor, and see what chords you can create by adding and removing notes, using your index finger barre as the structural base.
Was this lesson helpful? Please let others know, cheers...

Like This? Subscribe & Learn More...



Subscribe to the fretjam newsletter below for updates and extras, plus grab your

free

copy of

Uncommon Chords: 101 Vibrant Voicings You Won't Find on a Typical Chord Chart

.


blog comments powered by
Related
A Shape Barre Chords
C Shape Barre Chords
Barre Chord Relationships
Barre Chord Exercises
Main Guitar Chords Page