Pain in Thumb Joint When Playing Barre Chords
I play guitar for about 2 years and only last time I started feel strong pain in thumb joint when playing barre chords. I never had it before. As I play a little (15-20 min) it stars to hurt bitterly.

Answer

I had exactly the same problem a couple of years ago. I hadn't changed my technique or hand position and for some reason, out of the blue, my thumb started hurting after short periods of playing barre chords.

I gritted my teeth, played through it and the pain soon went away.

I also had a similar problem with my index finger. Again, I played through it and the pain went away after a couple of months.

Most recently I was getting frequent pain in my wrist after playing for over an hour. Only in the past week have I noticed it subsiding.

Now, I might have just been lucky in all these cases and I could have made the pain ten times worse by ignoring it. So I wouldn't advise the "gritted teeth" method.

But on the other hand, I know guitarists who have been playing for decades and these apparently random phases of pain are quite normal and usually associated with minor changes in your playing technique or the focus of your practice sessions.

It's only when the pain gets worse, or physically stops you from playing that you ought to consider seeing your doctor as it could be RSI related.

Firstly, ask yourself the following questions:

1) Has my hand position, action or technique changed recently?

If nothing has changed, and you haven't experienced pain before, then it's probably not to do with your technique. However, there are some fundamentals you should double check, such as making sure your thumb is positioned correctly...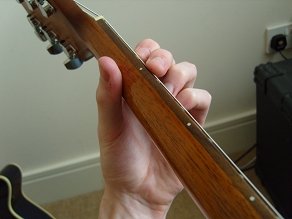 2) Am I applying more pressure than is actually necessary to grip the chords?

It could be that you're gripping the chords tensely, putting more strain on your thumb joint. Try to relax and apply as little pressure as possible.

3) Am I using some effective finger stretching exercises before I play?

4) Have I learned any new techniques recently that may be putting more strain on my fingers or am I using a certain technique more than before?

Some techniques are more intensive than others. Barre chords naturally require more strength than open chords, so if you've started using them more then your fingers might just be adjusting.

Pain is, unfortunately, a necessary part of a guitarist's progress.

5) Does the pain subside shortly after putting the guitar down or does it linger for days after?

If you can play for 15 minutes, put the guitar down and be able to pick it up again in another 15, then I would just keep having those breaks and see if you can gradually play for longer and longer periods without pain until it goes away.

If the pain stays with you for over an hour after putting the guitar down, then it may be more serious and I would first try a week or even 2 week break from guitar all together (I know, this is not easy if you really enjoy playing!).

If after that break you play the guitar and the pain hits you again after 15 minutes, it's time to see the doc.

Keep in touch with your progress using the comments form below.

If anyone here has experienced pain in their fingers, please let us know how you dealt with it using the comments link below. Cheers.