Home
>
Beginners
/
Chords
> Add & Sus Open Chords

Add & Suspended Open Guitar Chords
If you've been through the first three parts of this basic guitar chords series, you'll have learned quite a large library of chords to play around with. We know the
major and minor open shapes
, plus the various
open 7th chords
that add some depth to those basic chords.
In this lesson we'll explore yet more interesting variations on those basic major/minor chord forms.
By adding and changing notes in chords you can make them sound more colourful. It gives your chord learning a touch of experimentation and individuality.
First, a short introduction to the chords we're about to learn...
---
Modifying the basic major and minor open chords
There are many chords you can create using the basic E, A, D, C, G forms (major and minor) as the foundation.
The idea is, when creating your own music, instead of just playing a straight
E major
chord (for example), you'll think about variations that might sound more interesting, such as
E7
or
Eadd6
(more on "add" chords in a moment).
Just to be clear though, don't feel like you MUST use a more elaborate chord through every chord change in your song. Sometimes those basic open chords are the perfect chord to use.
It's ultimately about opening up your creative ideas and choices. I'm just giving you a wider range of those choices!
---
Open major add chords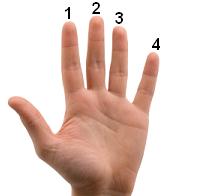 Not wanting to go into too much heavy theory right now, "add" chords (also known as added tone chords) are basically major and minor chords with notes added to them (yeh that was pretty obvious!).
So all we're doing is adding notes to the basic major and minor chords we learned in the first two parts of this series. Let's take a look at some examples, but don't worry about what the numbers after the "add" mean right now. Just learn to associate the name of the chord with the shape it creates on the fretboard and its sound.
Click the diagrams to hear the chord.
Tip: Try using the same added notes with the 7th chords we learned in part 3 (where the fingering allows).
Start with the basic 7th chord (e.g. A7, Amaj7) and add the same notes/strings as we did with the chords above. You'll have to work out the fingerings you find most comfortable as you'll be using all 4 fingers in most cases!
---
Open minor add chords
Notice how it's exactly the same notes we're adding, the only difference being we're adding them to the basic minor chords (from part 1)!
| | |
| --- | --- |
| Emadd6 | Emadd9 |
| Emadd9 Variation | Amadd6 |
| Amadd6 Variation | Amadd9 |
| Dmadd6 | Gmadd6 |

Tip:
You can also try adding the same notes to the minor 7th chords we learned in part 3.
---
Suspended open guitar chords
Again, I don't want you to get caught up in what "suspended" means right now, but these chords have a particular sound you should get to know. Don't forget you can also apply the "sus" to dominant 7th chords from part 3 and, where possible, the "add" chords from above. Experiment!
Suspended 4th (sus4) chords
| | |
| --- | --- |
| Esus4 | E7sus4 |
| Asus4 | A7sus4 |
| Dsus4 | D7sus4 |
Csus4






C7sus4






Gsus4




I find the Gsus4 chord sounds cleaner without the A string included. This means you have to block the A string using your 2nd finger. Simply angle your 2nd finger so that it just touches the A string and mutes it.

G7sus4





Suspended 2nd (sus2) chords
| | |
| --- | --- |
| Asus2 | A7sus2 |
| Dsus2 | D7sus2 |
| Gsus2 | |
If you've followed this course closely and really made an effort to KNOW these chords and experiment with their variations, you will now have a huge library of chords to use in your own songwriting.
Enjoy and use the knowledge you now have, because many guitarists get stuck using the same old chords over and over again which ultimately limits their creativity. That won't be you!

Like This? Subscribe & Learn More...



Subscribe to the fretjam newsletter below for updates and extras, plus grab your

free

copy of

Uncommon Chords: 101 Vibrant Voicings You Won't Find on a Typical Chord Chart

.


Related
More Beginner Guitar Lessons
Learn More Guitar Chords