As a long time member of Jamplay (yes, even teachers are still learning!), I thought I'd share with you some key reasons why I highly recommend it to my students.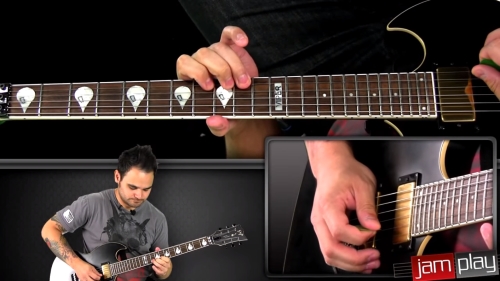 Jamplay is a premium guitar lessons site with a huge library of high quality video lessons, delivered by more than 50 pro tutors (including some influential guitarists of our time). It also offers regular live webcam sessions, jam tracks, a song library and one to one support for its members.

Basically, everything you need to become the best guitarist you can possibly be in one place.
Free lesson sites and Youtube videos are great, but their resources are limited by far smaller budgets. Jamplay offers a far more professional and structured approach to learning than regular Youtube videos or free sites.
So here's my Jamplay review - some of the key benefits of taking your next (or first) step with their course.
But please don't just take my word for it. Take a moment to read what others are saying about it from an independent site.
Benefit #1 - You'll Never Feel Lost
If you've often found yourself jumping around the internet trying to piece together lessons, you'll know how frustrating learning online can be. You just need a clear, logical learning path from where you are now to where you want to be.
Jamplay's lesson structure is dead simple to follow. They offer 5 main areas of learning:
The Basics (from absolute beginner to intermediate)
Styles & Genres (from Bluegrass to Metal)
Skill Building (essential techniques)
Songs (learn popular songs note-for-note)
Artist Studies (the tricks and techniques of the greats)
As you move through these sections, you'll never get lost or be left out in the cold. It's as simple as "when you've learned this, go here next...".
If you want to learn songs, their licenced song library is one of the (if not the) largest available and they break songs down part by part, note for note.
You can also learn in phases. This is a logical step by step path through the entire Jamplay lesson library, from absolute beginner through to advanced. Great if you don't know where to begin... or go next.
Benefit #2 - You Choose Your Teacher
When you begin, you have a number of tutors to choose from. The idea is that you spend some time with each tutor, get to know them and go with the one (or two) you find has the best teaching style for you.
Some tutors I found "hummed and harred" a lot (although some might prefer the unscripted, informal feel of it), some were more succinct than others, but there is a huge benefit of having multiple tutors at your disposal - some will include tips and methods that are unique to them. Each tutor is different and approaches teaching in different ways.
You can sample Jamplay's free lessons from each category and tutor by visiting their lessons page.
Benefit #3 - The Clearest Video Lessons On The Web
Here's where Jamplay shines. They offer HD quality video (which you can scale back if your connection is slower) which makes use of multiple camera angles such as over-the-shoulder and split screen. You can tell immediately they are shot professionally in a studio...

Multiple camera angles, and accompanying tabs and chord/scale sheets mean you're never second guessing where to put your fingers.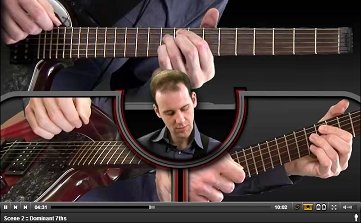 Over-the-shoulder view shows you the fretboard how you see it when you play.
It's surprising just how much clearer seeing the fretboard this way is as opposed to head on.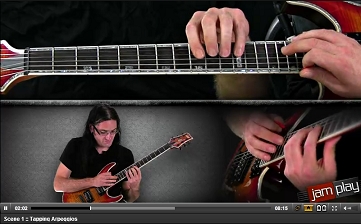 The control bar offers some great functionality...


...A/B looping allows you to set any two points in the video and repeat that section. I find this really useful when the tutor slows down to show you a lick. No more constantly hitting back on the time bar - you can keep both hands on the guitar. Also, lesson bookmarking means you can come back to a lesson you're not fully confident with, all your bookmarks being stored in your personal lesson planner.
Below each video is the supplemental content section - printable tabs, chord and scale charts, jam tracks and a text rundown of the lesson. Here you can also ask the tutor in the video questions about anything you don't understand.
Benefit #4 - Live Interaction With Your Teacher
Another unique feature of Jamplay is their live community based lessons, boasting 8 hours of live sessions, 7 days a week. JamChat allows students to interact with the tutor live. There are also "open mic nights" which allow you to showcase your talent over webcam, if that's your thing.
Many see this as the defining feature of JamPlay and it really does raise the barre (sorry) for other online lesson sites.
Benefit #5 - Interactive Libraries
As well as the video lessons they also offer several integral features such as a comprehensive chord and scale library, a library of jam tracks, interactive games, a lick and riff library and custom progress reports which I thought was particularly useful for tracking your progress in a given lesson, noting down bits that you need to work on more, or bookmarking a cool riff you came across. I find it very simple to use as all your bookmarks are linked from one place.

The Bottom Line
As far as learning guitar online, Jamplay offers by far the most interactive and comprehensive learning experience available.
You can get unlimited access on a monthly or yearly basis, at a very reasonable price considering the number of hours of video, live sessions and the various libraries and tools.
If you want the absolute best learning experience but can't afford pricey one-to-one lessons, Jamplay is the best compromise you'll find.