What to do if you can't view video...
Most web browsers these days support embedded flash video. Do make sure you have the latest browser (IE, Firefox, Opera etc.) installed on your machine.
If for some reason you're unable to view the videos on this site, I recommend downloading them instead. The only difference is you'll be playing them through a dedicated media player on your computer.
1.
Download the free player (Riva Player) here
2.
Once downloaded, install the player by double clicking on the icon where you downloaded it. You'll be taken through a short, automated process.
3.
Once installed, you're ready to go! Riva Player should automatically recognise video files from this site when you download them.

<<
The icon for the video files you have downloaded from this site should look like this.
...and simply double click on the icon to play...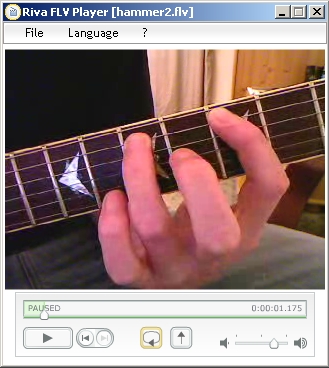 From now on, it'll be quick and easy!
Look for the video download links on the lesson pages (they'll be in the position the videos would have been shown).
Enjoy! (You can now close this window/tab and return to your lesson...)
Or head
back to the homepage