Home
>
Blues
Learn the Mechanics of Blues Guitar & Play What You Feel!
When searching for blues guitar lessons, you'll find plenty of cool licks, tricks and "monkey see monkey do" videos. But when it comes to improvisation (which, let's face it, is what blues is all about), you're often left in the dark.
To play the blues with real feeling and personality you
need
that skill.
That's why I teach you the mechanics and theory behind blues guitar - not
just
a bunch of licks (although tabs are important!) - so you'll be able to improvise confidently and say exactly what you want to say
in the moment
.
---
Quick Blues Guitar Video Lesson
How to play a dead simple but very cool sounding blues turnaround that you can transpose to any key. Simply "move the box"...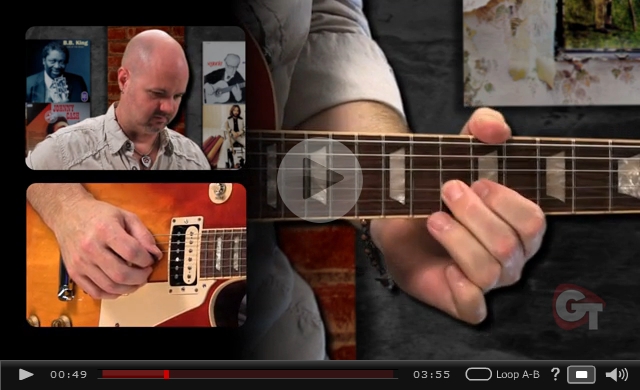 ---
Blues Guitar Lessons Contents
This section is still expanding, but there's plenty to get your fingers on below. Simply work through in the order they're presented...

Blues Chord Progressions
Learn about the different blues structures, including 8 bar, 12 bar, 16 bar and jazz variations. Plus, how to visualise them in any key on the fretboard.

Blues Guitar Chords
Looks at common (and less common) open and movable chord forms used in blues. Plus, some timeless chord variations that will give your rhythm playing a true blues feel.

Blues Guitar Scales
If you thought blues was just about minor/major pentatonic, think again! This lesson teaches you some interesting variations on the standard blues scales and when to use them in a I IV V sequence.

Soloing Over Blues Changes
This is where it all comes together - connecting scales to the chord progression. Learn the "secret" to building meaningful phrases over a 12 bar blues progression and break out of the pentatonic rut. Also in this series...

Using Minor & Major Pentatonic Together
Learn how to move smoothly between major and minor pentatonic - a technique mastered by all the legendary blues players. The idea is you can say a lot more by combining two scales in the same lick.
---
60 Professional Blues Backing Tracks
The perfect accompaniment to my lessons. Jamming really is the most effective (and most fun) way to put your skills into practice.
Blues Jam Session includes over 60 backing tracks in every tempo and style, video lessons, guides, chord and scale sheets and step by step instructions on how to improvise. Everything you need to
become the blues player you always wanted
.
---
Was this helpful?



Share this with your fellow guitar enthusiasts...


Please support this site. I really appreciate it!

Stay updated and learn more



Enter your email below for more like this and grab your free Uncommon Chords book...