Home
> Software
Best Guitar Learning Software
Guitarists can now download interactive guitar learning software to supplement their practice sessions, whereas before you only had passive learning through books and videos.
I've been watching this market for some time and have compiled a list of what I consider to be the
most innovative
and
effective
guitar learning software available for download today. Not just my opinion though, I've also taken into account customer feedback, refund rates etc.
---
JamPlay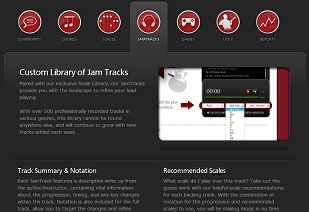 As well as JamPlay's
hugely popular video lesson course
, they also offer members some very useful online software to supplement your learning.
Chord, scale, jam track and lick libraries, games to help make learning more fun, and custom progress reports that allow you to track your development through the video course.
Make sure you use these coupon codes for a discount when you
sign up
...
gotime50 -

50% off

first month of monthly membership.

86C6CC -

25% off

first month of monthly membership.

33C6CE -

10% off

any type of membership.
More on JamPlay's guitar learning software
---
Riff Master Pro - Slow Down / Pitch Change Software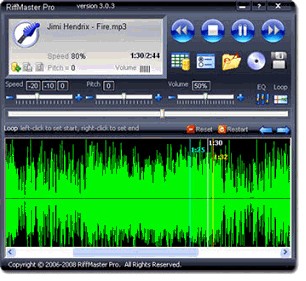 If you've ever struggled to learn songs by ear, this is really going to help you. With Riff Master Pro you can slow down songs and keep the original pitch, or change the pitch and keep the original tempo. Genius!
The true benefits of this become clear once you try it for yourself, so please do take advantage of the
10 day free trial
.
Simply load your tracks into the software and select your program. Slow the track right down to hear each note of that blazingly fast solo. Or, change the pitch to jam along in a different key.
Try Riff Master Pro yourself here
---
Guitar Notes Master - Interactive Fretboard Learning Software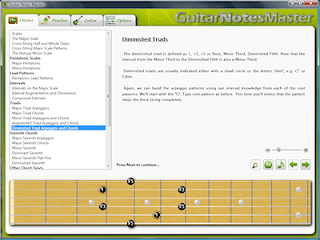 Knowledge of the guitar fretboard is essential for learning scales, chords and arpeggios. It is the foundation for making progress with guitar theory.
Before, you would have had to rely on books for this knowledge, but now you can learn through a far more entertaining medium.
Guitar Notes Master
is a great piece of software that provides you with all the tools and exercises you need to learn the fretboard.
With point-and-click interactive fretboard exercises (inc. example audio), printable diagrams and tab sheets, you have everything you need to master the fretboard in one place. You can tell these guys have spent a long time developing and perfecting this software. Very easy to use, step-by-step approach, overall an incredibly effective learning environment.
Visit their site here
and watch the video for a full demo of the features.
---
QuickBeat - Easy To Use Guitar Jamming Software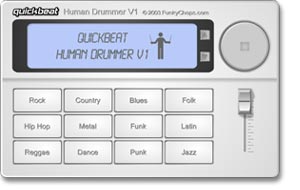 Practicing your licks and chops with a metronome is important, but sometimes you just want the feel of a real drummer backing you up! That's where
QuickBeat
comes in.
Instead of forking out for expensive and complex drum machines,
QuickBeat
is a simple piece of downloadable software that provides you with over 100 accessible beats across several styles for you to jam along. It's there for when you just want to have a freestyle jam session using the techniques you've learned during your practice time. A great "impulse" learning tool.
Although it doesn't
directly
teach you anything, many consider it guitar learning software because it helps to develop your sense of rhythm and timing in a band situation. The variety of preset, authentic beats encourages you to experiment playing with different styles of music.
Plus, it makes a welcome change from the "Chinese water torture" click of a metronome!

Visit QuickBeat here
to find out more.
---
Guitar Finger Trainer - Lead Guitar Learning Software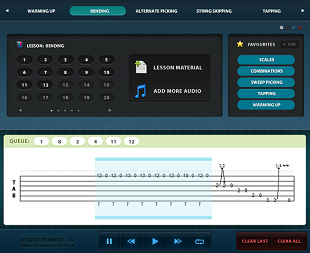 From the guys at Shred Academy, this training software is focussed around developing your lead technique such as alternate picking, bending, tapping, string skipping etc. Basically, all the physical aspects of playing guitar.
In a nutshell, the
Finger Trainer
allows you to program your very own library of lead guitar exercises, see the tab as the notes are played and speed up/slow down the riffs (using the in-built metronome). It also provides you with over 100 preset exercises to get you going.
If you're confident with the theory side of things, but have been neglecting the
physical application
of that theory, or if you just want to be able to play faster, this is the tool for you. It's like a gym for the fingers!
Visit the site here
for more information.
---
66 Licks - Build Your Own Solo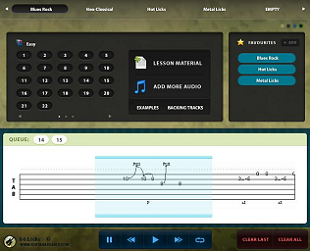 Based on the same intuitive interface as the Finger Trainer (above),
66 Licks
is a collection of soloing phrases that you can use to literally build your own solo and learn it using the tab.
Essentially, it's a huge and expanding (now with free updates) library of lick ideas across several genres including metal, neoclassical and blues.
Click to add the licks from the library, see them appear on the tab sheet and click play to hear your creation.
See 66 Licks in action here
---
Help other guitarists discover great software...
Have you used a great piece of software that you think should be added to this page? Let us know using the comments form below. We really appreciate it.
blog comments powered by
Return to Guitar Lessons Home